Heating Systems, HVAC Systems & Air Conditioning Systems

East Fishkill, NY, Arlington, NY, Washingtonville, NY, Vails Gate, NY, Montgomery, NY & New Windsor, NY
Selecting a New System
What to keep in mind when choosing your new HVAC system.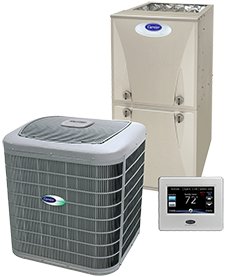 Choosing a new HVAC system is not an easy task. There are many things to consider, as well as many ways you can minimize your total cost of ownership in the long run.
Important Factors
Energy Savings
Heating Efficiency
Cooling Efficiency
Thermostat Control
Settings for time of day
Settings for time of week
Settings for areas of home
WiFi Control
Indoor Air Quality
Air Filtration
Humidity Control
Bacterial Virus Control
Fresh Air Ventilation
How to Minimize Total Cost of Ownership
Take into Account:
Equipment Cost
Monthly Energy Bill
Yearly Maintenance Cost
Warranties/Extended Warranties
Repair Costs
Heating Systems

∴

HVAC Systems

∴

Air Conditioning Systems ∴ Vails Gate, NY ∴ Arlington, NY ∴ East Fishkill, NY