Air Conditioner Replacement, Air Conditioning Installation & A/C Installation

Poughkeepsie, NY, New Windsor, NY, East Fishkill, NY, Arlington, NY, Vails Gate, NY & Wappingers Falls, NY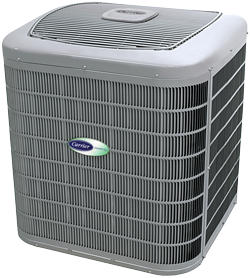 The heat and humidity in Dutchess County, Ulster County, Putnam County, Westchester County & Orange County is brutal.  Opening windows rarely lets in much of a breeze, yet welcomes in dust, pollen, bugs, fumes, and noise.  Let All Season Experts Heating and Cooling help you enjoy your home in a whole new way.
Air conditioner installations from an expert!
Modern cooling systems not only control temperature throughout the home but effectively filter, circulate, and dehumidify indoor air, creating a cleaner, healthier, and more productive indoor environment.  And because we customize design to meet your specific home and lifestyle, we deliver affordable operation, extended system life, and wonderful reliability.
To get top quality air conditioning installation service, call the team from All Season Experts Heating and Cooling!
Partnering with Carrier brand products, All Season Experts Heating and Cooling takes advantage of over one hundred years worth of innovations.  Through a range of sophisticated models, certain to exceed any expectation, we cater to your goals and ensure your needs are met.  Because today's intelligent cooling systems actively monitor indoor conditions and adapt capacity accordingly, you can take advantage of consistent temperatures and whisper-quiet sound levels, while keeping operation costs at a bare minimum.  Contact All Season Experts Heating and Cooling at (845) 452-5470, and we'll provide the information you need to make the best possible choices.  We handle new installation and system replacement with quick turnaround throughout Arlington, Poughkeepsie, Wappingers Falls, East Fishkill, New Windsor, Vails Gate, Washingtonville, and Montgomery, NY.
Air Conditioner Installation

∴

Air Conditioning Replacement

∴

A/C Installation

∴

Air Conditioner Replacement

∴

Air Conditioning Installation